Why
ZWCAD

?

Compatible and Comfortable: Get Started within One Hour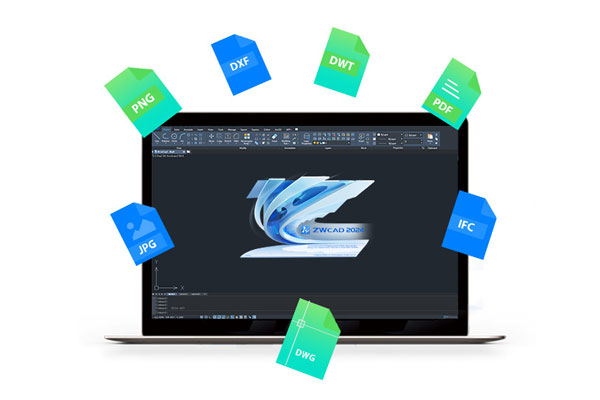 Seamless Compatibility
ZWCAD supports seamless DWG compatibility, along with various industry standard file formats. It reads, writes and saves DWG drawings directly, ensuring the highest level of compatibility when exchanging data with other CAD software.
Familiar Interface
ZWCAD offers a user-friendly interface that is instantly recognizable to CAD users, making it easy for you to start creating in no time. With a single click, you can use ZWCAD's setting migration tool to transfer files like fonts, print configurations, hatch patterns, etc.
Diverse Applications
Base on ZWCAD's robust APIs (ZRX/Lisp/VBA/.Net), hundreds of applications are developed to make design easier for CAD professionals in the AEC and manufacturing industries. These awesome applications include Autoturn, TcpMDT, CADprofi, Spatial Manager, CSIxCAD and many more.
Exceptional Speed
ZWCAD is built to speed up your whole design process, especially when you have to deal with large drawings over 100Mb. lt won't slow you down like other CAD software does, so that you can focus on designing, not waiting for your software to catch up.
Powerful and Fast CAD: Do More in
Less Time
Our software is packed with all the features you need to get your work done. But that's not all - we've also included advanced features like Flexiblock to help you tackle complex tasks easily. And with our innovative Smart series, you can streamline your workflow like never before.
Perpetual License, No Forced
Subscription
Compare Info
ZWCAD
ACAD
Version
Compatibility
Compatible with DWG
Compatible with DWT, DXF, DWF, DWFx
PDF & DGN Import
Interface
Classic and Ribbon Interfaces
Customize User Interface (CUI)
Dark / Light UI
Tool Palettes
Properties Palette
Dynamic Input
Auto-complete Command Entry
Drawing Tab Switching
Adaptive Grid
Advanced Features
Flexiblock

*Dynamic Block is similar to Flexiblock.

Sheet Set Manager
Point Cloud
ArcGIS
Quick Properties Panel
File Compare
Quick Calculator
Match Property
Group
Quick Select
Multiline and Multiline Style
Express Tools
Data Extraction
Barcode & QR Code
Innovations
Smart Mouse
Smart Voice
Smart Select
Smart Plot
Annotation
Leader & MLeader
Associative Dimension
Text and MText
Annotative Object
Revcloud
Text In-place Editing
Hatch / Gradient Hatch
Super Hatch
Tables & Table styles
Field
Layer
Layer Properties Manager
Layer Filter
Layer State Manager
Xref, Block & Attribute
OLE
Raster Images
Underlay (DWG, DWF(x), PDF)
Xrefs In-place Editing
Multiple Blocks Inserting
Block Attribute Manager
Output
CTB & STB Plot Style
Plot
Publish
Export
eTransmit
3D
Solid, Surface, Mesh Modeling
Photorealistic Rendering
Visual Style
3D Orbit
ACIS Viewing
IFC Import

*Only available when the architecture toolset is loaded.

3D mouse
Programming
MNU, MNS and MNL Files Support
ActiveX API
LISP Support
Visual Basic for Applications (VBA)
Runtime Eextension (ZRX/ARX)
.NET
Lisp Debugger