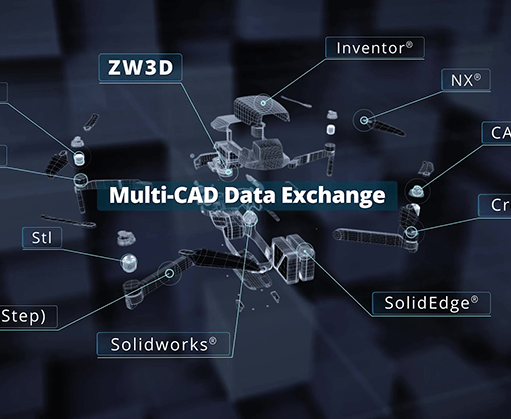 What's ZWCAD MFG?
ZWCAD MFG is an advanced CAD solution for manufacturing professionals to improve design standardization and efficiency.
Built on the powerful ZWCAD platform, it enables users to create standardized, high-quality designs easier and faster by offering an extensive library of standard parts, intelligent drawing tools and other productivity-enhancing features. Moreover, it can be seamlessly integrated into PLM systems to achieve efficient management throughout the product lifecycle.
Why ZWCAD MFG?
Create standard drawings with an extensive library of standard parts
Quickly create drawings compliant with national and international standards, including ISO, EN, DIN, ANSI, ASME, PN, IS, JIS, and GOST. From bolts to screws, and rivets to studs, we have all the parts you need for any project.
Speed up your design process with intelligent tools
Automate and accelerate your design workflow with a rich set of drawing tools, intelligent annotation tools, an extensive symbol library and automatic BOMs associated with ballons and part properties.
Unify design standards across your team with customizations
Build your own templates with customizable border frames, part library, dimension styles, fonts, technical requirements, and more. By having unified standards from start to finish, every member of your team is on the same page in all projects.
Manage data and collaborate better through PLM integration
It can quickly achieve a high level of integration with popular PLM systems, such as Teamcenter® and Windchill®2. By integrating it into your existing system, you can manage your data more efficiently and collaborate with your team better.
Benefits of Using ZWCAD MFG
We conducted a comprehensive comparison between ZWCAD and ZWCAD MFG, using a hand pump as an example to perform common design tasks from drafting to detailing. The results revealed that ZWCAD MFG significantly boosted productivity by 51% compared to ZWCAD3.
Compare Info
ZWCAD
Version
Compatibility
Compatible with DWG
Compatible with DWT, DXF, DWF, DWFx
PDF & DGN Import
Interface
Classic and Ribbon Interfaces
Customize User Interface (CUI)
Dark / Light UI
Tool Palettes
Properties Palette
Dynamic Input
Auto-complete Command Entry
Drawing Tab Switching
Adaptive Grid
Advanced Features
Flexiblock
Sheet Set Manager
Point Cloud
ArcGIS
Quick Properties Panel
File Compare
Quick Calculator
Match Property
Group
Quick Select
Multiline and Multiline Style
Express Tools
Data Extraction
Barcode & QR Code
Innovations
Smart Mouse
Smart Voice
Smart Select
Smart Plot
Annotation
Leader & MLeader
Associative Dimension
Text and MText
Annotative Object
Revcloud
Text In-place Editing
Hatch / Gradient Hatch
Super Hatch
Tables & Table styles
Field
Layer
Layer Properties Manager
Layer Filter
Layer State Manager
Xref, Block & Attribute
OLE
Raster Images
Underlay (DWG, DWF(x), PDF)
Xrefs In-place Editing
Multiple Blocks Inserting
Block Attribute Manager
Output
CTB & STB Plot Style
Plot
Publish
Export
eTransmit
3D
Solid, Surface, Mesh Modeling
Photorealistic Rendering
Visual Style
3D Orbit
ACIS Viewing
IFC Import
3D mouse
Programming
MNU, MNS and MNL Files Support
ActiveX API
LISP Support
Visual Basic for Applications (VBA)
Runtime Eextension (ZRX/ARX)
.NET
Lisp Debugger
Smart Annotation
Power Dimension
Multiple Dimensions
Detect dimension overlap and determine suitable distance
Quickly design by using mechanical symbols
Intelligent Balloon and BOM
Easily generate balloons and BOM
Associative Balloon and BOM
Intelligent Drawing Environment
Enterprise and international standards support
Layer management and layer mapping
Multiple borders and adaptive scaling
Super Edit
Mechanical Parts and Generator
Part Library
Shafts and Gears
Extended Drawing Tools for Manufacturing
Construction lines
Advanced Centerline
Reusable detailing tools
Draw Groove quickly and accurately
ZWCAD MFG Library
Advanced Part Library
Insert and edit own libraries